Joined

Sep 2, 2010
Messages

418
Reaction score

3
Seeing that COVID-19 is moving to a new phase in the UK, rather than de-rail the thread with what is happening in Melbourne, I thought I'd start a new thread.
I have to admit my sanity has been severely tested, where I and my family are now living in a defacto police state, where we have been under hard lockdown for 80+ days and been under some form of lockdown/restrictions since mid-March, without respite.
Many here probably don't care what's happening half way around the world, and I get that, but this will give me an outlet to express what is happening here, just as a means of release. It's a little long to start but I'd appreciate any support from this community.
The following 6 minute YouTube video gives you a very good glimpse of what it's like in Melbourne:
https://www.youtube.com/watch?v=xsjnoiOAst0
Photos like this below (a young woman arrested on the beach because she was 5.2km from home - the limit is 5km) just reinforce the jackboot approach but these photos and videos also underscore a more disturbing issue. Namely, the ease with which many Governments around the world have imposed harsh restrictions on freedom of movement and freedom of speech, amongst others.
Although Daniel Andrews is near the zenith of this oppression, he is certainly not alone in his zeal and most of us have noted his enthusiasm. More broadly, Morrison plays his role as jailer with Australians being barred from leaving the country. The Federal Government have been shown as completely impotent in maintaining any semblance of federation. The States do what they damn well please and send the bill to Canberra. Every now and then, the PM or the various Premiers leak out small concessions that are enthusiastically promoted by the MSM. We all knew the MSM to be complicit but their singular lack of inquisitiveness into the various modelling used to frame the COVID response and consequent policing is akin to cowardice. Elsewhere, the very few media voices of dissent are abused and harangued by a chorus of "karens" and other useful idiots.
We may make dark jokes or comments about the similarities with Hitler and Stalin, North Korea and the former East Germany but I think the world may have reached a tipping point. Namely, the broader populations in most countries have overtly demonstrated their utter compliance with authoritarian Government. Protests are generally small and are confronted by Police in riot gear. Overwhelming force by Police is displayed, and used, with no fear of any subsequent enquiry or consequence.
BLM was able to stir up 10,000 people at short notice yet protests against Andrew's harsh and draconian laws that snuff out basic freedoms can generally muster no more than a few hundred, at best. These protests should attract tens of thousands – hundreds of thousands – but where are the people?
Police have amply demonstrated their use of social media and phone location pings to track down recalcitrants and issue fines. Methodology we were assured was only to be used to catch hardened criminals and terrorists has been turned on the general public. Other laws allow warrant-free entry to your home (under the vaguest of criteria) and the removal of any 'thing' for alleged transgressions such as posting on Facebook. The laws allowing increasing intrusiveness into our privacy have proved their worth to the authorities and have been used with alacrity.
Our lives will never be the same again. Too many politicians have had the scent of real power in their nostrils and too many citizens did nothing about it. The world has changed, but not for the better and has widely opened the door for the next despot with the broader population kneeling as the Police underscore their willingness towards enforcement.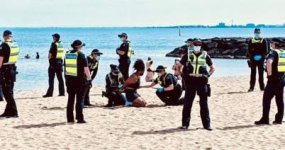 Last edited: